Peter Maxwell Davies'
The Lighthouse
(1979) has been staged in a new production in conjunction with the Lancaster Concert Series. They are broadcasting the show on the web:
http://www.lancasterconcerts.co.uk/webcasts09/showwm2.asp
James Oxley - tenor: Sandy
Damian Thantrey - baritone: Blazes
Jonathan Best - bass-baritone: Arthur
Etienne Siebens - conductor
Elaine Tyler-Hall director
Aaron Marsden designer
Marc Rosette lighting designer
Psappha Ensemble
Brief Synopsis:
Part ghost story, part psychological drama, this opera is based on the true story of three lighthouse keepers who disappeared mysteriously from a remote Scottish lighthouse in 1900. In the prologue, three officers from a lighthouse ship report to a Court of Enquiry how they arrived to relieve the three keepers and found the place deserted. The main act flashbacks to the keepers, working the lighthouse far longer than usual. They are nervous and pass the time by singing characteristic 'set piece' songs – which express their individual guilt. Out of the fog, their past emerges to taunt them. They see the arrival of a blinding light as Antichrist, in which they are replaced by the relief officers: the mystery is unresolved.

(from Chester Novello) This opera seems very much in the Britten tradition - it could seem a bit out of date now. But the production looks good quality and the audio/video is rather incredible.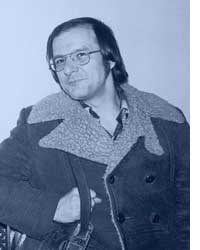 Also there are a few other webcasts (of varying quality of performance) - one interesting one is an entire programme of Claude Vivier:
http://www.lancasterconcerts.co.uk/webcasts/showwm2.asp
The Vivier concert includes
Glaubst du an die Unsterblichkeit der Seele

,
which I believe was unfinished on Vivier's death. Either they perform a completion, or they perform only the completed movements (there is no programme note unfortunately, and no libretto - there is a 404 not found error). As for the rest of the programme - I feel its pretty variable. Vivier has written some inspired music - but in this programme there were some things that I found, frankly, a bit boring.
As much as the quality of performance goes - considering most musicians would be unhappy with cameras pointing at them unless in a very controlled environment, the Psappha Ensemble do remarkably well. This is not easy music. The BBC Singers in the Vivier perform excellently.
Besides which, I think its a good thing that programming of this kind is happening - and certainly, this sort of distribution, on the web, seems like an excellent idea. I'd like to see a programme by InterContemporain or Klangforum Wien broadcast in this way (EIC actually have started doing titbits on YouTube, but nothing like the quality of the Lancaster Uni stuff).